Teacher Training
We deliver free teacher training and CPD about humanism across the UK at national teacher conferences, through initial teacher training (ITT) providers, and at local authority training days.
We can also fit in with your school's training needs through:
Inset days
Twilight sessions
SACRE training days
Local teacher conferences and CPD
We are happy to work with teachers from one school or across a number of schools.
If you would like to book free teacher training to help with subject knowledge, resources, or teaching practice connected with humanism, then please contact us on education@humanism.org.uk.
Understanding Humanism Teachers Conference
'I thought the day was superb! I will definitely be returning next year and hopefully bring more of my department!'

Jo Brown, RE Subject Leader, The Costello School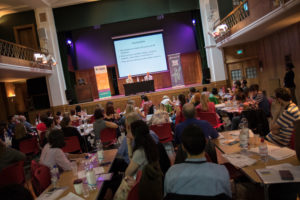 Our annual teachers conference offers a day of stimulating seminars and workshops for primary and secondary teachers, subject leaders, and headteachers, designed to enhance teachers' subject knowledge of humanism (a non-religious worldview) and secularism, and support them with ideas for teaching about humanism in the classroom.
Next year's conference is scheduled for 9 July 2019.
If you have any questions about the conference or can offer to run a session, please email education@humanism.org.uk.
Subject knowledge
For more information about humanism click here.
Humanists UK has a wealth of further information about humanism on its website.
For a list of recommend books on humanism see our books page.