Understanding Humanism RE Teachers Conference 2018
'I thought the day was superb! I will definitely be returning next year and hopefully bring more of my department!'

Jo Brown, RE Subject Leader, The Costello School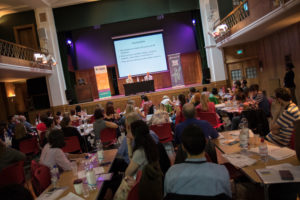 Last year 100 people attended our highly-praised teachers conference. This year it's going to be even bigger and better. And it's still FREE!
Tuesday 10 July 2018, 10.00 – 16.30 (registration from 09:30)
Conway Hall, 25 Red Lion Square, London, WC1R 4RL
We'll offer a day of stimulating seminars and workshops for primary and secondary teachers, subject leaders, and headteachers, designed to enhance teachers' subject knowledge of humanism (a non-religious worldview) and secularism, and support them with ideas for teaching about humanism in the classroom.
Speakers include:
Professor AC Grayling, philosopher and author of The Good Book: A Secular Bible
Andrew Copson, Chief Executive, Humanists UK, and author of Secularism: Religion, Politics, and Freedom

Dr Jacqueline Watson, managing editor of the International Journal of Children's Spirituality

Luke Donnellan, Head of Education, Humanists UK

Neil McKain, Head of RS and member of the NATRE Executive

Sophie Colligan,

RE teacher and humanist celebrant

Dr Roger Hutton, Ministry of Defence and President of the Defence Humanists Network

Imtiaz Shams and Terri O'Sullivan, Faith to Faithless

Plus many more
We are delighted to be able to offer this CPD opportunity for FREE. However, we therefore request that you only register if you are sure you will be able to attend the conference, or cancel by emailing us if you later realise that you are no longer able to attend. That way we can ensure that we are able to ensure places for as many teachers as possible.
As a registered charity, we are only able to provide free education resources and teaching support through the generous donations of our members and supporters. If you or you school would like to make a donation towards our education work, you will be able to do so when you register.
To register your place, click here.
If you have any questions in the meantime, please email education@humanism.org.uk.
Teacher Training
We deliver free teacher training and CPD about humanism across the UK at national teacher conferences, through initial teacher training (ITT) providers, and at local authority training days.
We can also fit in with your school's training needs through:
Inset days
Twilight sessions
Local authority / SACRE training days
Local teacher conferences and CPD
We are happy to work with teachers from one school or across a number of schools.
If you would like to book free teacher training to help with subject knowledge, resources, or teaching practice connected with humanism, then please contact us on education@humanism.org.uk.
Subject knowledge
For more information about humanism click here.
Humanists UK has a wealth of further information about humanism on its website.
For a list of recommend books on humanism see our books page.