Understanding Humanism Teachers Conference 2019
'I thought the day was superb! I will definitely be returning next year and hopefully bring more of my department!'

Jo Brown, RE Subject Leader, The Costello School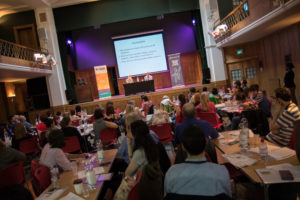 Building on the success of previous years, we will be holding another Understanding Humanism Teachers Conference.
The day will include stimulating seminars and workshops for primary and secondary RE teachers, subject leaders, and headteachers, and is designed to enhance your subject knowledge of humanism while providing you with ideas and tools to support your teaching about non-religious worldviews in the classroom.
Date: Tuesday 9 July 2019
Time: 10.00 – 16.30 (registration from 09:30)
Location: Conway Hall, 25 Red Lion Square, London, WC1R 4RL
Speakers include:
Professor Richard Norman, Emeritus Professor of Moral Philosophy, University of Kent, and author of On Humanism

Angela Hill, National RE Adviser for RE Today Services

Lisa O'Connor, Head of RS at King Edward VI College, NATRE Exec

Professor Michael Hand, Professor of Philosophy of Education, University of Birmingham

Jason Buckley, The Philosophy Man

Luke Donnellan, Director of Understanding Humanism, Humanists UK
… and more to be announced.
To book your place click here.
We are delighted to be able to offer this CPD opportunity for FREE.  However, we therefore request that you only register if you are sure you will be able to attend the conference, or cancel by emailing us if you later realise that you are no longer able to attend.  That way we can ensure that we are able to ensure places for as many teachers as possible.
As a registered charity, we are only able to provide free education resources and teaching support through the generous donations of our members and supporters.  If you or you school would like to make a donation towards our education work, you will be able to do so when you register.
If you have any questions about this event, please contact us on education@humanism.org.uk.
Teacher Training
We deliver free teacher training and CPD about humanism across the UK at national teacher conferences, through initial teacher training (ITT) providers, and at local authority training days.
We can also fit in with your school's training needs through:
Inset days
Twilight sessions
SACRE training days
Local teacher conferences and CPD
We are happy to work with teachers from one school or across a number of schools.
If you would like to book free teacher training to help with subject knowledge, resources, or teaching practice connected with humanism, then please contact us on education@humanism.org.uk.
Faith to Faithless apostasy and safeguarding training
Does your school understand the unique issues faced by some young people who leave a religion? Can you offer them the support they need?
Young people leaving religion may face exclusions, shaming, and isolation. Some risk homelessness, violence, psychological abuse, and discrimination.
Working with apostates, Faith to Faithless has developed an in-depth training programme for organisations who may come into contact with apostates, including schools.
The training includes awareness of the most common issues faced by apostates, referrals to relevant organisations that can help, language and helpful/unhelpful ways to talk about apostasy, and safeguarding implications specific to your practice.
For more information click here or contact Faith to Faithless on training@faithtofaithless.com or 020 7324 3060.
Subject knowledge
For more information about humanism click here.
Check out our free online courses.
Humanists UK has a wealth of further information about humanism on its website.
For a list of recommend books on humanism see our books page.